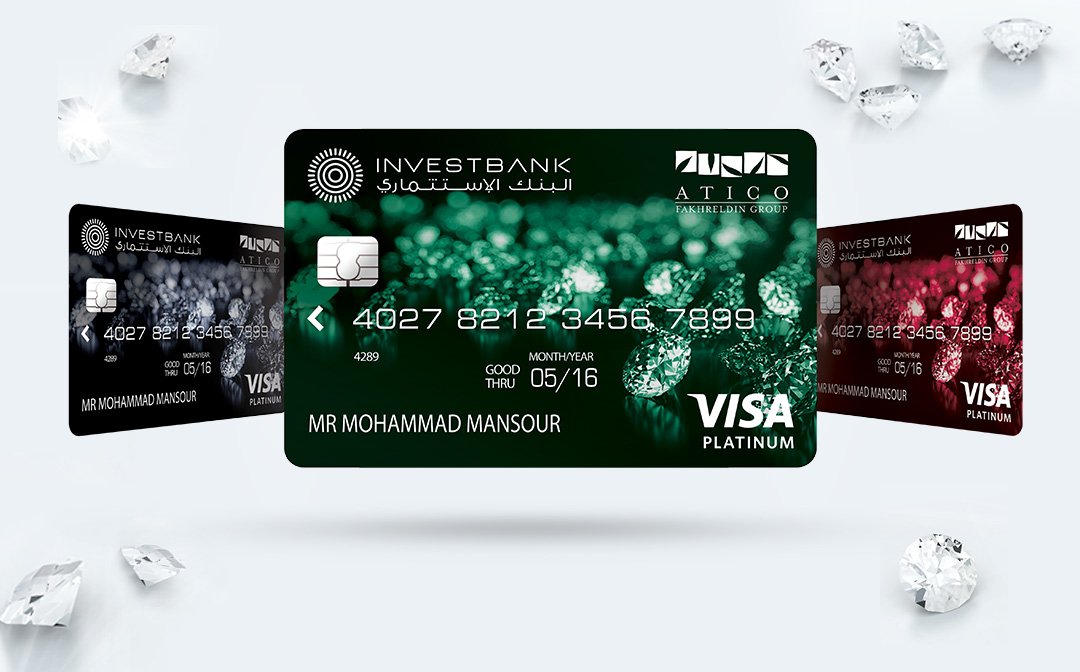 - Earning Jewels has never been so rewarding!
The ATICO & INVESTBANK co-branded Visa Platinum Credit Card is reserved for those who deserve a world of privileges, as well as a range of unprecedented offers carefully selected to suit their lifestyle. Distinguished clients can now enjoy special privileges and other superior advantages such as; medical and legal consultation, travel, shopping and entertainment in addition to comprehensive travel insurance and special discounts in various hotels and international restaurants. The Visa Platinum Card is globally recognized and accepted at all ATMs and point of sales in Jordan and abroad
-ATICO Jewels Reward Program in partnership with INVESTBANK is a joint rewards program and a Visa Platinum credit card where the Jewels may be primarily used at ATICO Fakhreldin Group outlets with the possibility of extending it to other merchants and shops.
- ATICO Jewels credit card is based on the loyalty category our clients already have with ATICO: Baguette, Marquise and Brilliant.
- ATICO Jewels credit card accumulates ATICO Jewels; each Jewel is equal to one Jordanian Dinar on bills at any ATICO Fakhreldin Group outlet or by using our delivery service.
- ATICO Jewels credit cardholders will receive Cash Rewards, 2% cash back on local and international purchases when using the credit card (once activated as a credit card).
- Program Overview:
ATICO Jewels Platinum Credit Card (Download Brochure)
- Online Application & Registration :
Kindly fill the following link to complete the registration process even if you would like to deactivate the credit card facility (Credit Card feature is optional). The card will take approximately from 7 – 10 working days; We will contact you once its ready for pickup. For more information, please don't hesitate to contact us at 079 901 1980.
ATICO Jewels Platinum Credit Card (Online Aplication Form)
ATICO Fakhreldin Group PresentationJewel Platinum Credit Card bookletOnline Registration Process